Now that you have installed Customer Support and that you are properly logged-in to your administration area, you should make sure to easily find your way through its administration interface, know where to find one specific bit of information.
Overview Of The Main Interface
That is the first page you see when logging into your back office. It presents you with a summary of everything you need to know about your Customer Support and services at any given time.
The Top Bar
Customer Support Logo.
User who login to the system.
All along your daily activities administrating your Customer Support, you will have to browse through the many pages menu makes it easy for you.
Dashboard. The homepage of your back office, where you can see the main statistics, live.
Customers. Customers page gives you a list of the entire registered customer on your Customer Support.
Chat. Chat page enables you to communicate with all employees in Customer Support.
Requests. Enables you to register, manage all requests from customers.
Projects. Register and manage your projects.
Servers. The Servers page is where to add, manage, and control your customers' servers.
IP Addresses. The IP Addresses page is where to add, manage, and control your customers' IPs.
Services. All services available for customers.
FAQs. The FAQs page is where to add you Frequently Asked Questions in the Customer Support Platform.
Announces. Your Announcements' management center, from here you can manage your announcements, make new announcement, delete announcement, update your existing announcements and browse all of them.
Users. This page gives you a bird's eye view of your users, you can manage, view, delete, and add new users.
System. You can control and edit system options through this page as following:

Permissions Templates. Permissions are the central part of Real Easy store's profiles. They enable you to see very precisely what an employee account can and cannot do.
Cron Tasks. A cron is a service that allows a user to automatically execute a script at a specific time, And where to check your created tasks and to make any task run earlier than its scheduled date.
Software License. Software License page is where to add your cutomer support license key to activate your software.

Options. System options page enable you to manage your system and setup your system options, you can setup your website options and preferences options through this page.

System Options. Here you can manage most of your administration options.
System Template. This page covers the copyrights of your system system.
Admin Template. Admin design configuration such as your brand white, brand aqua, and the copyrights.
E-Mail/SMTP. Setup your email methods and servers in your system to start sending emails to your users.
Corn Tasks. Cron Tasks page enables you to manage run time for all tasks you have added to your system.
Dashboard
Dashboard includes tabs (block) such as customers you support, services you provide, projects, requests, servers, Servers Due and IP addresses block.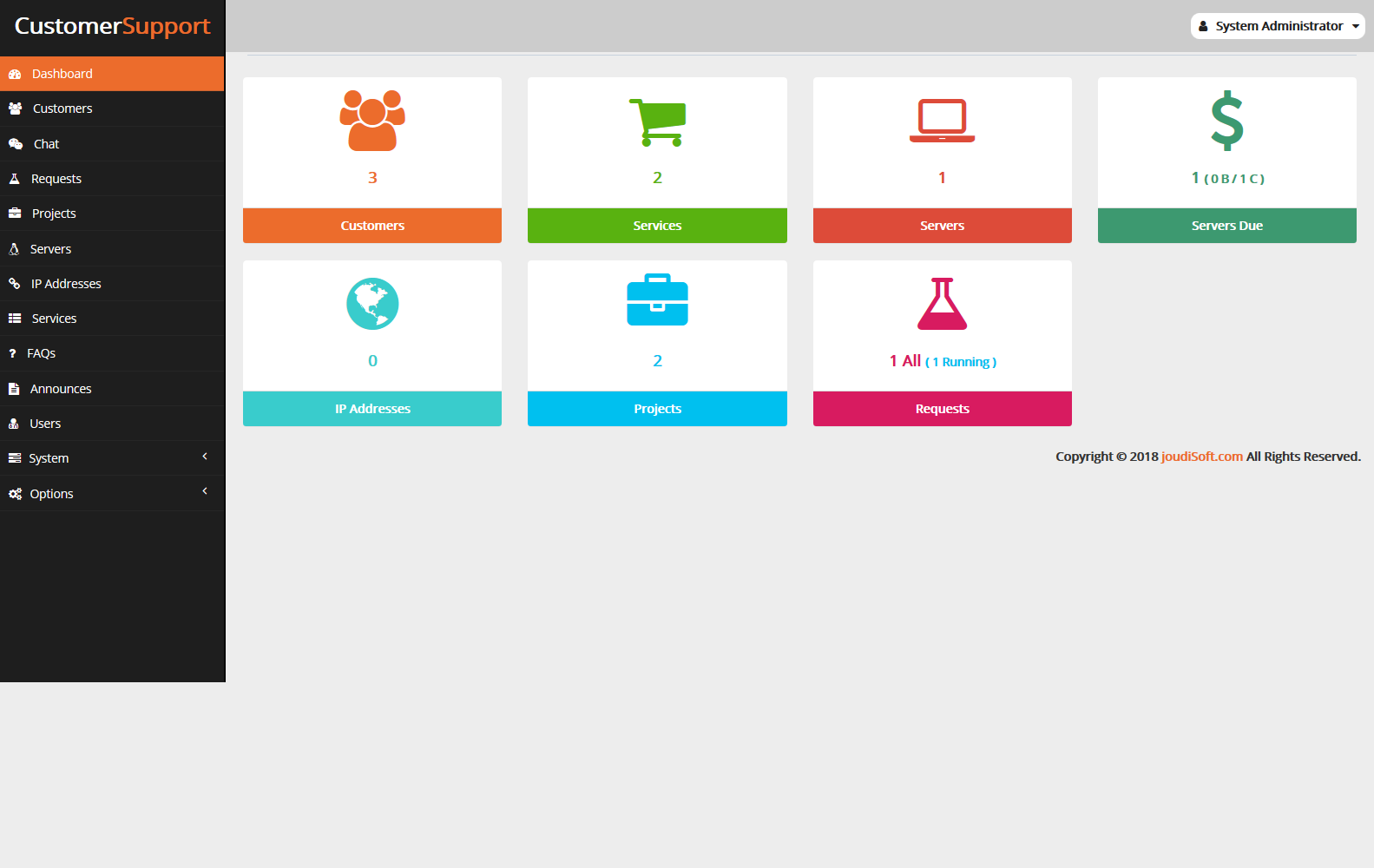 Customers. Gives you number of registered customers.
Services. Gives you number of services you have added to your system.
Servers. Gives you number of servers you added.
Servers Due. Numbers of servers that due to be paid.
IP Addresses. Gives you number of IP address you added.
Projects. Gives you number of projects you support.
Requests. Gives you number of running requests.